Starting and Stopping the Web Server
By using the Sun Chili!Soft ASP Administration Console, you can start, stop, and restart the Web server with which the Sun Chili!Soft ASP Server is configured to run. You can also view the status of the Web server (stopped or running).
Note
This feature is not available on Cobalt systems. For those systems the Web server is managed from the Cobalt Administration Console.
To start, stop, and restart the Web Server
1. Open the Administration Console by using the following URL:
where [HOSTNAME] is the hostname of your Web server and [PORT] is the port on which the Administration Console is running (5100 by default).
2. On the Server Management page (the first page to display when you open the Administration Console), click the Web Server tab.
The Web Server tab displays.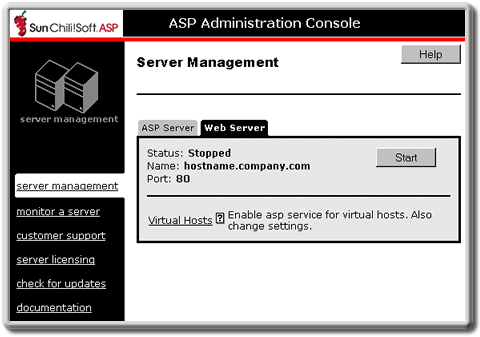 3. Click Start, Stop, or Restart as desired.
See also:
Managing the Web Server in this chapter
Copyright 2002 Sun Microsystems, Inc. All rights reserved. Legal Notice.