Editing a DSN
After adding a system DSN to the ASP Server you can change its information, such as name, description, IP address, username, and password. You can also add values for parameters that were not configured when you added the DSN.
When you add a new DSN to the ASP Server, Sun Chili!Soft ASP automatically sets the correct parameters for the database. Changing these parameters can affect database performance and it is not recommended that you do so. The default settings are sufficient for most applications. Before editing database parameters, see the topics describing the required parameters for each ODBC driver in "Configuring Database Parameters" in this chapter.
To edit system DSN information
1. Open the Administration Console by using the following URL:
where [HOSTNAME] is the hostname of your Web server and [PORT] is the port on which the Administration Console is running (5100 by default).
2. On the ASP Server tab of the Server Management page, click Databases.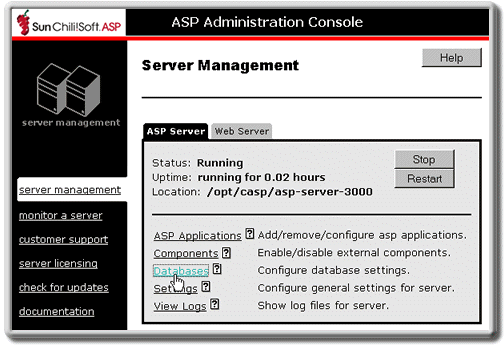 3. On the Databases page, in the same line as the name of the DSN you want to change, click edit.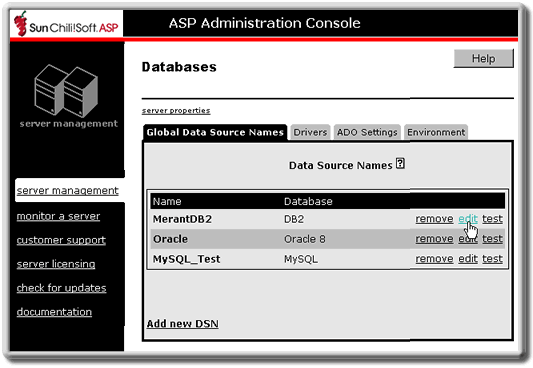 The Edit Data Source Name page displays.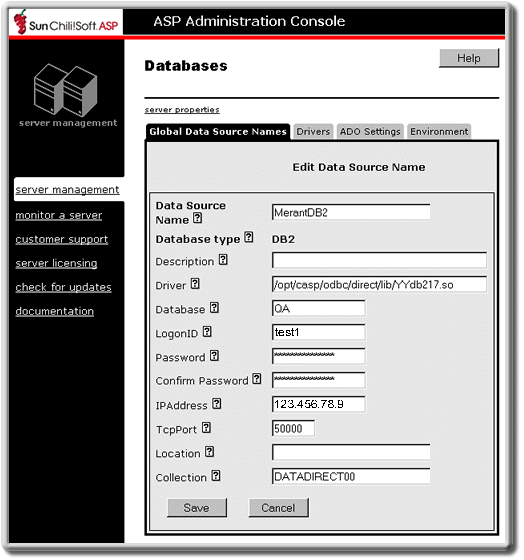 4. Change the database parameters as desired.
5. To save your changes, click Save and then click Done.
- or -
Click Cancel to revert to the last settings that were saved.
See also:
Configuring Data Source Names (DSNs) in this chapter
Adding a DSN in this chapter
Removing a DSN in this chapter
Testing a DSN in this chapter
Copyright 2002 Sun Microsystems, Inc. All rights reserved. Legal Notice.