Checking for Product Updates
Sun Chili!Soft occasionally provides product updates and fixes to enhance the security and performance of Sun Chili!Soft ASP software. When using the Administration Console you will see periodic prompts asking you if you want to check for updates. You can also check for updates on demand, to quickly determine if your specific installation of Sun Chili!Soft ASP is up-to-date. To check for updates on demand from the Administration Console, use the following procedure.
Note
Configuration information transmitted while checking for updates DOES NOT contain any personal or company identifying information.
This feature is not available with Sun Chili!Soft ASP for Windows.
To check for product updates
1. Open the Administration Console by using the following URL:
where [HOSTNAME] is the hostname of your Web server and [PORT] is the port on which the Administration Console is running (5100 by default).
The Server Management page displays.
2. In the left navigation pane, click check for updates.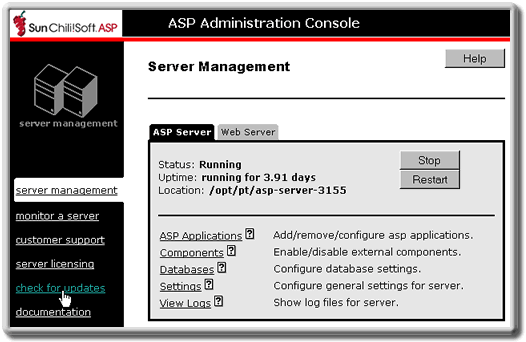 The Sun Chili!Soft Product Update page displays, listing information about your Sun Chili!Soft ASP installation.
3. Make your desired selection:
Select Check for update now to check the Sun Chili!Soft Web site for updates and transmit your installation information.
- or -
Select Do not ask for 90 days to be prompted to check for updates again in 90 days.
Copyright 2002 Sun Microsystems, Inc. All rights reserved. Legal Notice.