Viewing the Product README File
When you install Sun Chili!Soft ASP a README file is installed on your computer. The README provides the most current product information. You can access the README file from the Sun Chili!Soft ASP Administration Console, as described later in this topic. You can also find the README file in the following directory:
/[C-ASP_INSTALL_DIR]/
where [C-ASP_INSTALL_DIR] is the path name of the Sun Chili!Soft ASP installation directory (/opt/casp by default on UNIX and Linux, and /home/chiliasp on RaQ3).
Note
A README file is not provided for Cobalt RaQ4 and Cobalt XTR.
In addition to the README file, Sun Chili!Soft provides a number of other resources to answer your questions about configuring and using Sun Chili!Soft ASP. These resources are described in "Introduction: About This Documentation."
To view the product README file
1. Open the Administration Console by using the following URL:
where [HOSTNAME] is the hostname of your Web server and [PORT] is the port on which the Administration Console is running (5100 by default).
The Server Management page displays.
2. In the left navigation pane, click customer support.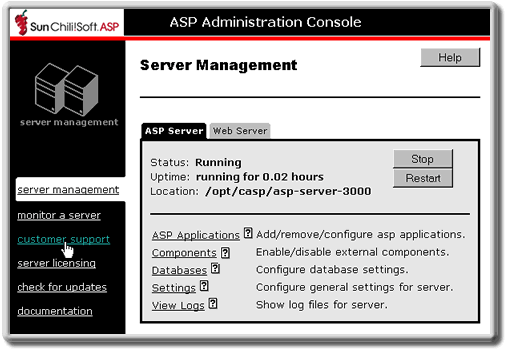 The README file displays.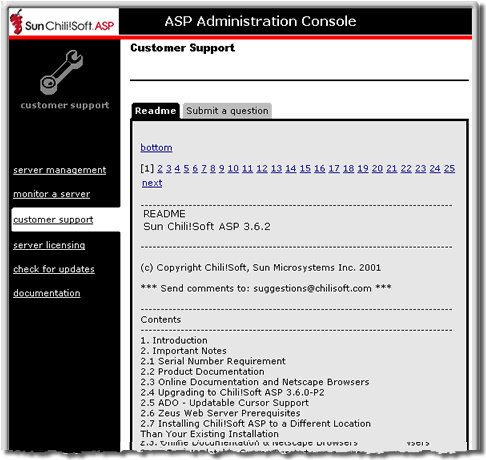 Copyright 2002 Sun Microsystems, Inc. All rights reserved. Legal Notice.